Remember the character Jack Klompus from Seinfeld? He was the guy that Jerry's dad Morty was always having problems with in the Del Boca Vista retirement community. No matter what Morty said, Jack always said the opposite. He was the type of guy that nobody could get along with, someone who thought that -no matter what- he was right, and even if he had an inkling that he was wrong would never admit to it.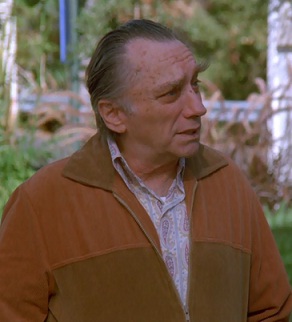 Jack Klompus
We have a Jack Klompus at River City Marina and it makes life shitty. Many of you reading this probably have a Jack Klompus near you, whether you have a guy or girl as part of your condo association that's always mucking up the works, or a neighbor who likes to cut his tree branches down and leave the mess in your yard. Maybe there is that guy at work that you just can't stand dealing with because he's such a pompous ass. Our Jack is a guy who thinks he's the king of the marina, someone who is involved in every aspect of the place and is such a pain to deal with that it makes us want to leave. River City is the only real option for us in Chicago since the marinas on the lake are closed in winter. We could go to the lake in the summer like many of the other boats do, but we like being here. We like the neighborhood, and most of the people here are great. So where does that leave us? We can't leave, or won't, so we just deal with Jack.
When most of the other people at the marina see each other in passing we stop and chat for a bit, just be neighborly. You know what we talk about most of the time? The weather usually starts the conversation, but it almost always turns to Jack. He is a source of constant aggravation to nearly everyone here and usually when we all sit and chitchat we talk about the stupid shit Jack did or said lately. Unfortunately Jack owns two slips at our small marina of only 64 slips, and he has no other job other than to (illegally) charter his cabin cruiser or pontoon to unsuspecting bachelorette parties in the summer. You should read his Yelp reviews, the man pisses everyone off. You should see him when the Coast Guard or Police stop by, he tries to chase them away like a Canada Goose defends it's young; make a big ruckus until there is a threat of consequences and then run away screaming bloody murder.
Jack has assaulted Kevin, screamed and sworn at Colette, assaulted a senior citizen neighbor, and generally lied to or cheated almost everyone else here.
He's a bad person. We share this story about the terrible Jack for one reason, because we've shared a lot of our "adventure" here and feel that knowing and dealing with Jack is part of our life. While Jack may be the worst person we've ever met (no exaggeration) he exists and people like him exist. We love living aboard Cygnet, and really enjoy River City despite it's many flaws. If you are living aboard a boat, or renting an apartment, or living in a neighborhood with a Jack Klompus we sympathize and wish you the best.
Remember when Thanksgiving was an actual holiday and not just something we have to get past in order to get to Black Friday? Well to us it means that winter is fast approaching and we need to settle in for a few months of cold. We are almost done with prepping this year but have a few things left to do. We've had a missing piece of glass on a large side window since we purchased Cygnet, the previous owners had put a piece of plexi in the hole and it fit pretty well. About 15 months ago our mechanic took the piece of plexi out to size the window frame for a piece of replacement glass. Unfortunately that mechanic never followed up despite our pleading and still has that piece somewhere other than aboard Cygnet. Since Kevin works seven days per week and Colette works six we just didn't get around to fixing the damn thing this year. Pretty pathetic, but now we are in for another winter without a window. Last year Kevin taped some 6-mil plastic over the hole and Colette fashioned a piece of rigid foam on the inside to help keep the heat in, we even went as far as to cover the ugly foam with some fabric to make it look better. This November we decided to make the hole less noticeable and also much more insulated. Kevin got a couple pieces of corrugated plastic and put a piece inside and out with foam in the middle. It's very well insulated now, and it doesn't look that bad either!
Looks stock.
We get the entire boat wrapped by a guy named Manny who does most of the boats at River City. He and his team do a great job for a reasonable price and we've asked them to wrap Cygnet in early December since we like to wait as long as possible. This year we decided to winterize the engines and generator, which we've never done. On Thanksgiving we were able to get the generator and port engine winterized, but six gallons of RV antifreeze wasn't enough to do both engines so we need more to finish the starboard side. Since we've had power issues in two previous winters we also changed the way we run our heaters. This year we only have one small space heater running on the shore-power circuit that runs the rest of the boat. We ran a 30A and a couple 15A cords (12 gauge) through our still missing window and are running heaters off of them to free the shore-power for living. So far it is working OK but we aren't as warm at night as we should be. We still have to tape the engine room vents once the engines are fully winterized so that should help. We also still need to build our bridge for winter access, but that will happen soon. After we wrap we should be in good shape for winter.
6-mil plastic over the windows helps keep the wind out and the warm in.
So, Water We Thinking about life aboard as winter closes in? It really sucks to have to deal with Jack but it still doesn't dampen our spirits for living aboard, plus he's rarely around as the temperature drops. It does make us think a lot about moving ship and spending the summer on the lake. Winter is an eventuality in Chicago and we know it's coming quickly so we are prepping as we have in the past but changing based on what we've learned in years before. This will be our fourth winter aboard and we've made it this long with minimal issues. Fingers crossed that we'll get through this one without a problem.