Let's face it, winter in Chicago isn't the greatest. Here we are about 40 days away from spring and it's a cold week with little end in sight. We've insulated and sealed as much as we can but it's still cooler than we wish inside Cygnet. We now have four space heaters running on two different circuits and the reverse cycle air conditioners are no longer effective. When we get a sunny day without much wind it can be 78 degrees inside! But when the wind kicks up over a couple cloudy days and the exterior temperature drops we have a less comfortable temperature. Even after those sunny days it can be in the mid 60s in the salon of our boat by the next morning. We rarely get below 63 but there have been a couple very cold nights we've touched the 50s.
We don't expect to be hot inside, we used to keep our house around 68 daytime and 62 nighttime, but we want to be comfortable. We found a very interesting solution to those cold nights. We purchased a bioethanol fireplace. Other boaters we know use propane burning heaters or have better insulation or reverse cycle air systems that keep them warm, another boater in our marina uses seven space heaters. We are at our top end for power draw, so we chose clean burning bioethanol. The fireplace itself is quite compact and nice to look at, but when the flames get going it's like sitting in front of a wood fire without all the smoke, pollution, poisonous gasses, and sound. This thing is virtually silent when burning but creates a nice flickering flame. The best part about it is that it puts out 8000 BTUs! If you don't know what that means don't worry and I wont bore you with definitions and technical babble, but just know that's a pretty good amount of heat. It warms up a chilly boat to a comfortable temperature.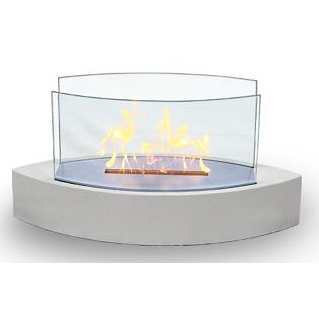 That's a pretty good representation of what the flame looks like.
Some of you might think we are absolutely nuts to have an open fire
inside
our boat on purpose, and you might be right. We are extremely responsible people however and never leave it burning without supervision. We keep a fire extinguisher at the ready, and we closely monitor the headliner and wood above the fireplace to make sure it never gets more than slightly warm, in fact the built in 12 volt light bulbs make more heat on the headliner. We always have a small fan on the other side of the room circulating the warmth too.
Looks nice on the breakfast bar. Notice the snuffer sitting on top of the fire grill.
There are drawbacks, there is the faintest (almost unnoticeable) aroma of Vodka in the air when it's burning. The fuel isn't cheap or easy to come by either, we order it on
Amazon
and it takes over a week to arrive (or we could pay $144 for two day shipping!) The fireplace holds just over 1/3 liter of fuel which lasts about three hours, the perfect amount of time to get it warm inside on a cold night. We get almost three full fires from a liter, which costs $7. Not a terrible cost, but not as cheap as electricity, but with electricity we don't get the pretty flames either. There is also the oxygen issue. We have wondered, and others have asked us, where the oxygen in our boat comes from, something we touched on in a previous post. Obviously burning a fire for three hours uses a significant amount of oxygen and Cygnet is wrapped in a plastic bag. We have monitored the air inside as best we can and have no issues with enough breathable air inside. We often open the back door for a short while when burning to get a fresh breeze inside. We've used it a couple dozen times now and are still here to tell the story.
So water we thinking about our winter at this point? It's going as well as can be expected, and with our new fireplace we are keeping toasty warm!